Schneeglöckchengedichte

Wildarten A-Z

Hybriden, Kultivare A-Z

Gartenpraxis

Volksnamen

Galanthophile

Galanthus in der Kunst

Galanthus in der Musik

Galanthus-Literatur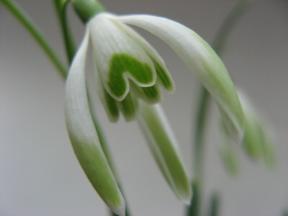 Emerson, Ralph Waldo (1803-1882)
Flower Chorus
Such a commotion under the ground,
When March called, "Ho there! ho!"
Such spreading of rootlets far and wide,
Such whisperings to and fro!
"Are you ready?" the Snowdrop asked,
" 'Tis time to start, you know."
"Almost, my dear!" the Scilla replied,
"I'll follow as soon as you go."
Then "Ha! ha! ha!" a chorus came
Of laughter sweet and low,
From millions of flowers under the ground,
Yes, millions beginning to grow.
Buchtipps:
Emerson, Ralph Waldo Die Natur. Ausgewählte Essays
Emerson, Repräsentanten der Menschheit 218 S. - Diogenes 2003